Welcome to Monique van Wel Designs
When moments come along that call for unique handmade jewellery (jewelry), look to Monique van Wel Designs. I offer limited-edition designs, from wedding rings to future heirloom pieces, sweet-nothing trinkets and anything else I can imagine. Browse through my existing designs, or talk to me about customizing the perfect piece for your special occasion.
About Myself
I am proud to be a goldsmith, as it is a time-honoured profession dating back to 3,000 BC. Historically, goldsmiths have focused on craftsmanship and hand-working jewellery into something finer than the materials themselves – creating a whole that is greater than the sum of its parts. This is a process I love being a part of, and I want you to be a part of it, too. I am based just outside of Uxbridge, Ontario CA, and I have been in business since 2000. When I create a piece of jewellery, it is always handcrafted and unique.
See my Before and After Custom Creations
I enjoy taking your old precious metals and gemstones and giving them new life by recycling them into a handmade one of a kind item.
View my portfolio
"Monique's jewelry is beautiful. Her creativity and attention to detail is apparent in every piece. I worked with her to design my wedding bands and the results are stunning. I've also purchased other pieces that I'm over the moon about. Monique is super easy to work with and cares about her customers! Highly recommend her work!!"
"She took jewellery from my "former life" and redesigned - creating 3 separate rings that fit together, celebrating the everlasting love between me and my children."
"I was thrilled to have Monique design and make a beautiful ring for me....a family keepsake was transformed into a new, vibrant, one-of-a-kind treasure. I have had so many compliments."
"I knew she was truly "listening" to the kind of style I wanted for my beautiful diamond ring." Monique offered her unique ideas that paralleled my own which resulted with a one of a kind works of art."
"Her incredible insight and sensitivity regarding sentimental value is woven into her creative ability to reclaim, rejuvenate and restore the magic that lies dormant in the pieces that sit in your jewellery box."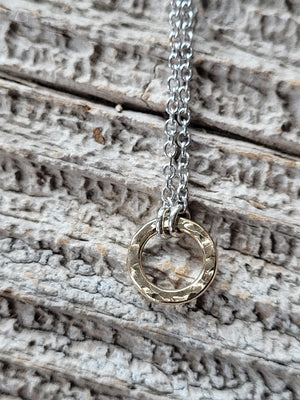 Tiny Hammered 14k gold circle ( yellow or rose) necklace
Sale price Price $165.00 Regular price $165.00 Unit price / per