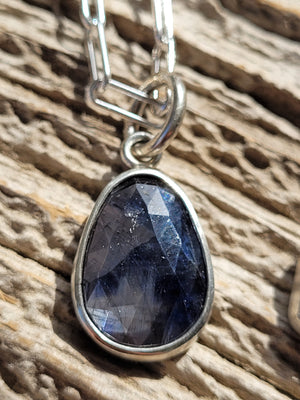 Blue/gray teardrop Sapphire pendant
Sale price Price $225.00 Regular price Unit price / per
Handmade in Ontario, Canada
Necklace length: 16 Inches
Pendant height: 1 1/8  Inch
Pendant width: 1/2 Inch
Materials: Sterling Silver
Gemstone: Blue/gray Sapphire
This Natural rose cut Blue/gray  Teardrop Sapphire is set in Sterling Silver with 2 hearts (my signature)on the back of the stone.
The simple style of this pendant makes it so perfect for any occasion.
A perfect unique gift for any lady on your list.
Size about 1 1/8" by 1/2 " comes with a, 16" paperclip Sterling Silver chain or 16" Rhodium plated Sterling Silver cable chain. Chose your chain below
Sapphire's crystal name is Corundum.
With a hardness of 9 on the scale of Mohs, its next to diamond (10)
I love the durability of this stone, not scratch easily at all and is great for everyday use.
The "chic elegance" look you will love every day and on your night out.
These are just real Eye candy for the luxury lover.
The stones are rose cut on the top, giving it a nice extra sparkle.
Colour and sheen are tough to capture in an image and are way nicer in person.
Colour can vary due to the differences in monitors or digital devices.
The mystic sheen/cat eye effect in these genuine/natural Sapphire is due to the fact that it is cut from rough material that exhibits partial asterism.**
Please feel free to Contact Me with any inquiries or special requests.
Thanks for shopping at my store
~ Monique 😊
**Asterism = Basically, there are rutile needle inclusions in it that are oriented at certain angles to give it that partial star effect. The reason why you can't actually see a partial star is that the stone is cut flat. In order for asterism to show, the stone must be cut into a high-domed cabochon.**
**Asterism = Basically, there are rutile needle inclusions in it that are oriented at certain angles to give it that partial star effect. The reason why you can't actually see a partial star is that the stone is cut flat. In order for asterism to show, the stone must be cut into a high-domed cabochon.**